Thank You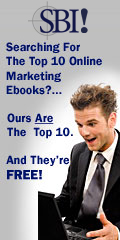 Thanks for your request/feedback/comment.

I will respond to you shortly and hope that you will return to visit HowToBoostWebTraffic.com often and follow the updates.
Please Accept My Complimentary.
Before leaving, you're invited to checkout the high quality risk-free products such as Value Exchange, SpamCheck, a very speicial tool, Search It! and many e-books.

The e-books include the book that was coined "The BIBLE Of Selling On The Net" - Make Your Site Sell! all SEVEN volumes, over 1,500 pages is my gift to you.
Pay It Forward!
There are thousands affiliates and online marketers who become exhausted by ineffective ways to get Web site traffic. I can feel their desperated feeling. However, it does not mean that real information about how to increase targeted web site traffic is NOT existed. It is here.

Please kindly help our friends by sharing this page with them. You can do it by submiting this page to your favorite social networking site using the links below to pay it forward.